Pure Derry Book (Signed)
£

5.99 On Sale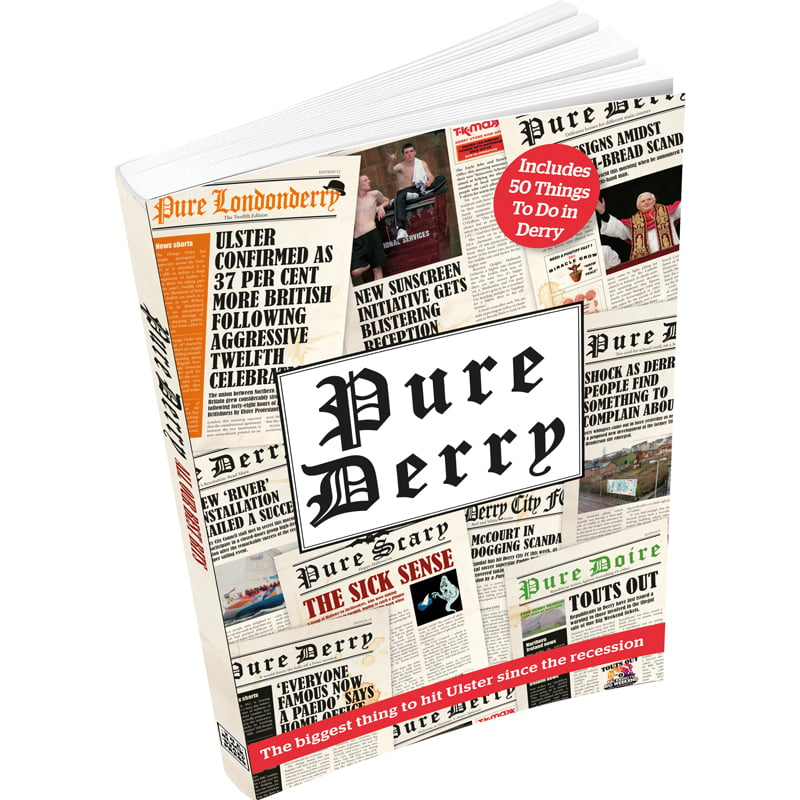 Derry's finest source of satire and comedy for over a decade, Pure Derry is what Seamus did to to avoid housework before he started the Ulster Fry with Billy.
NOTE: If you are in Derry and want to avoid shipping charges, feel free to use promo-code DERRYWAN to zero the shipping charge. You can then pick your item up in town. (We're in Magazine St)
What people have to say about the Pure Derry book...
"Some people say the best thing about Derry is the road out of it, but those people can t ever have used the A6. No, the best thing about Derry is Pure Derry. It s as good as the A5 would have been if we hadn't spent the money on Larne and Carrickfergus." - NEWTON EMERSON, Writer of The Portadown news
"Pure Derry is the best thing since weird ritual cannibalism. Or sliced bread, as I like to call it." - JESUS CHRIST, Son of God
"Irreverent. Offensive. Intelligent. Daft. Closely observed and totally essential. In the sturdy spirit of Swift, Orwell and Private Eye, PD now justifiably claims satirical pole position in the City of Culture." - MARK PATTERSON, Broadcaster come surfer.
SIGNED & PERSONALISED COPIES : PLEASE READ
If you want a book made specifically out to someone please email us via the contact form and let us know what ye want. Don't worry, we will NOT sign books unless asked.
Share